From Abu Dhabi to the world. The world is our home, you are our guests.
Middle East's Leading Airline Award, Middle East's Leading Airline – First Class, Middle East's Leading Cabin Crew, Best Economy Class, Best Frequent Flyer Program, Airline Market Leadership Award…these are just some of the 2014 awards that ETIHAD AIRWAYS has received.
Ending the 2014 year – and – Starting the 2015 year with a bold reinvention, ETIHAD AIRWAYS has gone through what I would call a major image makeover for their cabin crew; especially since Etihad is a Middle East Airline. As any smart traveler would know, cabin crew are the brand ambassadors of the airline and what we think of them can possibly make or break the deal – after all, image and first impressions count to a whole different level for the aviation industry!
I believe this will be one of the first major (yet still subtle) uniform makeovers taken on by a Middle East airline. Remodeling and creating a new image of "What is a Middle-East Airline" – ETIHAD AIRWAYS is keeping the Conservative look with a twist of patterns and colors to incorporate the modern society; old and new. If you've seen the previous all charcoal-grey uniforms, there really wasn't anything significant that stood out and it honestly resembled a couple other airlines operating in the Middle East.  (Image BELOW is of the previous Cabin Crew Uniforms)
By Ettore Bilotta, an Italian Designer, the new and improved warm toned Cabin Crew uniforms are looking incredibly alluring with its rich brown colour (as seen in the Etihad branding logo) and the vibrant accents of purple and orange to really pull the entire feel together – as seen in the image below in the new campaign. 
Everyone knows that I've always had a fascination with aviation and honestly, I won't hesitate to try on a set of these!! Ladies/Gents, I know you've all seen PanAM – can't deny that we all thought about wanting to become a flight attendant cabin crew at some point. Not only were the colors the major change, but the hemlines and fitting definitely made an impressing improvement. The blazers are no longer looking square or oversized and the skirts are fitted more to look feminine and sophisticated. Functional yet stylish*Goodbye frumpy. 
Vain trifles as they seem, clothes have, they say, more important offices than to merely keep us warm. They change our view of the world and the world's view of us – Virginia Woolf
Nonetheless, I give this reinvention an A++. See below more campaign shots that were taken in the Abu Dhabi desert.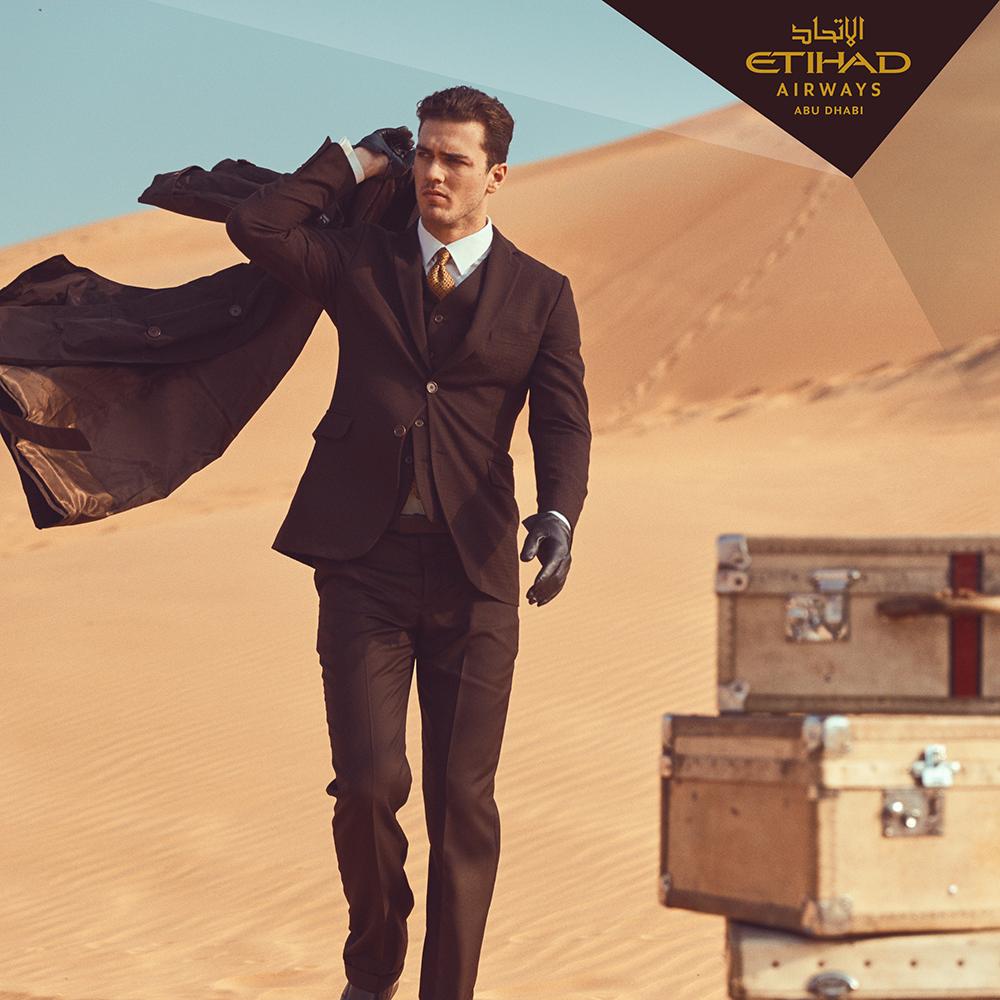 **my two favorite shots – female model with the horses and the male model with UAE's symbol falcon.
I can't wait to fly with ETIHAD AIRWAYS – not only for their well known Business Class seats, but to see these uniforms up close and in person!! For those who will be traveling on ETIHAD, you can expect to see these onboard starting December 27th, 2014.
PS/ So…where can we order a set?! hehehe (:
PPS/ See you in Abu Dhabi ~~
& here's our handsome dongseng 동생 Korean Actor/Model, Kim Woo Bin 
————–
언제까지나 as always,
트위터 twitter @imesotk | 인스타그램 instagram kimhye_tk
————– *photographs from Etihad